The Ken Doig Sr.
Senior Men's Team Challenge
---
---
DATE: Friday, June 2 – 2023
START TIME: 10:00 AM Shotgun
LOCATION: Seaforth Golf Course
ENTRY FEE: (prices listed are for the team and include tax)
Seaforth Golf Club Members
– $125.00 walking/$150.00 riding inc. tax
Non-Members
– $165.00 walking/$195.00 riding inc. tax
FORMAT: 2-Person Team Challenge
ADDITIONAL RULES: Teams play a mix of 9-holes scramble & 9-holes net best ball. Both players must be 50 years of age or older. Verified handicap required for net best ball (non-carded players will play off of scratch in best ball). Players 80 years or older may p lay the Yellow Tees (4330 yards), all other players play from the White Tees (5446 yards).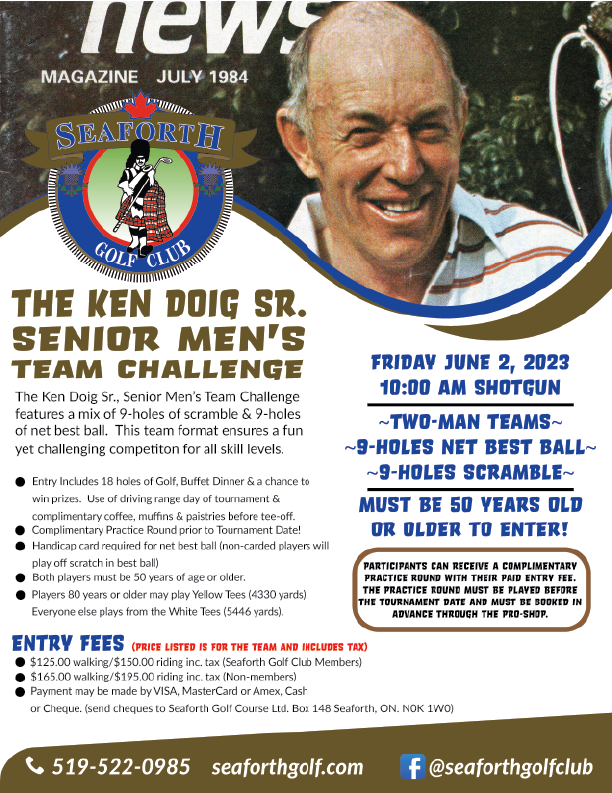 ---
Team Entries Include
18-holes of golf in the tournament format
Complimentary Practice Round (prior to tournament date)
Complimentary Coffee, Muffins & Pastries morning of tournament.
Range Balls & practice facility access the morning of the tournament
Delicious Dinner
Chance to win Prizes
To enter a team email c4thgolfcourse@gmail.com or call the pro-shop at 519-522-0985.
Practice Rounds must be played prior to tournament date and the tournament entry must be paid in full prior to playing your practice round.
---
History of the Event
The Ken Doig Sr. Senior Men's Tournament is named in honour of Club Co-Founder & Legendary Canadian Golfer Kenneth Laidlaw Doig.
A winner of over 300 amateur golf events, including the 1984 Ontario Sr. Men's Amateur Championship, "Balding" as he came to be known by his peers was staunch competitor who regularly went toe to toe with the likes of Moe Norman & Gary Cowan in Men's tournaments across the province. Ken first took up golf by chance as a young hockey player. He fell in love with the game and later would hone his skills at the game while playing professional hockey in Perth, Scotland. In 1957 he successfully qualified for & competed in The OPEN Championship at St. Andrews.
Upon returning home to Canada, Ken along with his brother Roderick who had also gained a passion for golf would successfully convert their childhood farm located just South of Seaforth into a 9-hole golf course which would later be developed into the 18-hole facility you see today.
Ken's Love of sport & competition has been kept alive by his family and remains a keystone pillar of our operations today. We continue to operate competitive tournaments like the Ken Doig Sr. Senior Men's Tournament as a way to honour Ken's legacy and the sense of camaraderie that such events help to foster.
In order to keep participation levels up and encourage more players to take part our Sr. Invitational Tournament was converted into this 2-person format over a decade ago.
For those of you who are still looking for an individual Sr. Men's Competition there is a Sr. Men's Division contained within our existing Men's Invitational Tournament in September.