Club News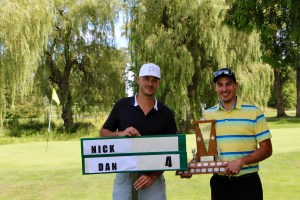 The Halldorson Cup was played in a "Scotch Mist" on Sunday with 24 players teeing it up for bragging rights and a new hat! The event is held in memory of the late Dan Halldorson who played on the PGA Tour for many years
19th Annual Numb Nuts Tournament 2017
Overcast, 6 degrees felt like -2degrees. Wind gusts of 38km/hr from the East. 72 members and non-members thought it was a pretty decent day for the annual Numb Nuts Tournament! Thanks for coming out and supporting the event everyone!! Congratulations to Seaforth Golf Club Members Kevin Bennett and Matt Chaput for winning the event with a fine score of 73!
2017 Halldorson Cup
Last sunday was a perfect day for the Annual Halldorson Cup here at the Seaforth Golf Club! We had 24 competitors this year, 12 players on the Old Age and Treachery team and 12 on the Youth and Skill Team! The Matches were close but "Youth and Skill" were victorious again this year!! Thanks so much to everyone for coming out and supporting the event in memory of the Great Dan Halldorson.
Seaforth Country Classic Skins Game
Congratulations to our Club Champions for the 2017 season!
Thank you to everyone who participated and supported the event! We love showcasing our very own Members!!
Runner Up – Frank Verberne Runner UP – Frank Verberne
Low Net Champion – Jimmy Dick Low Net Champion – Doug Fry
2nd Low Net – Derek VanDrunen 2nd Low Net – Todd Doig
Low Net – Linda Doig Low Net – Jan Baldwin
45th Annual Mens Invitational
Congratulations to the Winners of the 45th Annual Men's Invitational! Low Gross over the field was former Member Ryan Jeffrey and Low Net was Member, Shop Manager and Mechanic, Jimmy Hyde. Terry Mullan was the Low Bermudian and Roland Skinner was the Low Net Bermudian. This year we were very pleased to have 80 competitors who came from as far away as Bermuda, Ottawa and all over Ontario, as well as plenty of our own members! This was the first year that Ken Doig Sr. did not compete but he was there to greet everyone and present the trophies. The weather cooperated and a great day was had by all! Thanks to everyone for coming and keeping the event going as well as all of the Staff and Volunteers who helped everything run smoothly!
SEAFORTH COUNTRY CLASSIC SKINS GAME!!
Sunday was a great day for our Annual Junior Invitational. The Winner of the Gord Sallows Trophy with a fine score of 72, was Seaforth's own Sheldon Pryce. Rachael Rier, Jackson McLlwain, Karsten Stuckless, and Will Salnek were winners of their divisions! Thanks to all of the juniors for participating, to the parents for bringing them and to our volunteer scorers for helping to keep everyone on track throughout the day!
Seaforth Country Classic Pro Am – 2017
2017 Triple Six Ladies Invitational
The weather cooperated and we had a great day for the ladies as they competed as partners in the fun triple six tournament yesterday! The first six holes were a scramble, the middle six were best ball and the last six were alternate shot. (All of the ladies said they were still friends after the alternate shot section!)
Congratulations to Roma Harris and Elaine Arthur from Woodlands Links Golf Course in Clinton who won the tournament with a fine score of 68. Thanks to everyone for coming and taking part in a great day!
We Celebrated Canada Day in True Fashion here at the Seaforth Golf Club!
At 10am folks got their picture taken with John A. MacDonald, Stephen Harpur and Joe Clark – Some of Canada's Past Prime Ministers. These kind gentlemen are in our community of golfers and were great sports in helping us to Celebrate Canada's 150th Birthday!
At 1pm Couples from all over Ontario competed in our Mad Hackers Tee Party Annual Couples Invitational.
Congratulations to our winners who were victorious in a Playoff – Carolanne and Todd Doig. Second place went to Mario and Lisa Gonzales of Sarnia. Thanks to everyone who participated!
Congratulations to the Winners of the 2017 Ken Doig Sr. Senior Mens Invitational!
Don Ferguson and Kevin Ibbitson had the low gross score of 63 and Rudy Oppersman and Glen Skea had the low net score of 52. The weather was great, and so was the company! Thanks to all of the guys who competed this year and tackled the team format of scramble on the front 9 and best ball on the back 9! A big thanks to our Volunteers and staff for helping to put on a great event!
Congratulations to the Winners of the 23rd Annual Spring Scramble Columbo Classic!
The event was a great success once again and the weather held up wonderfully after having to postpone it from earlier in May. Thanks to a dedicated tournament committee the event has raised thousands of dollars for both the Heart and Stroke Foundation and Seaforth and Area Food Bank over 23 years.
Jason Anstette, Kevin Murray, Brian Nigh, Barry Young
Pictures from the 2016 Junior Invitational-
Our golf development services are designed for everyone.
2016 Ken Doig Sr. Men`s Invitational
1st low gross – Jim Walker and Jay Cressman – 61
1st low net – Kim Belton and Barry Fawley – 53
2nd low gross – Frank Verberne and Jerry Wright – 64
2nd low net – Kevin Ibbitson and Don Ferguson – 54